תיאור
High Definition Full HD טכנולוגיית הקרנה DLP רזולוציה טבעית 1920×1080 ניגודיות 23000 :1 עוצמת הארה 3000 ANSI Lumens יחס תמונה טבעי 16:9 יחס זום 1.1 :1 תלת מימד כולל 3D שיטת שידור PAL , SECAM , NTSC
דגם חדש !  2 כניסות HDMI + תלת מימד מובנה חווית סרטים מטורפת !
Super-sized home entertainment
Bright vivid colors – 3000 ANSI lumens
Full HD 1080p image quality
Dynamic black technology – 23,000:1 contrast ratio
Easy connectivity – 2x HDMI and MHL support and built-in 10W speaker
Super-sized home entertainment
Created for super-sized 1080p home entertainment, the bright HD141X is perfect for watching TV shows, sports and movies or playing action-packed games on a huge screen.
With a built-in speaker and two HDMI inputs the HD141X is easy to setup and use. Turn it into a smart projector by connecting your smartphone or tablet using MHL; now you can play games, stream videos and share photos on the big screen.
Full HD
Sharper more detailed projection with 1920 x 1080p pixels, perfect for watching Blu-ray movies without downscaling or compression.

Full 3D
Using the inherent speed of DLP technology, The Optoma HD141X Full 3D projector can display true 3D content form almost any 3D display device, including 3D Blu-ray, PS3, Xbox and Sky3D.

Gaming Mode
Designed to provide the best gaming experience you can enjoy lightning response times, high contrast and vivid colours on a large screen using Gaming mode. Perfect for all games including racing and first person shooters.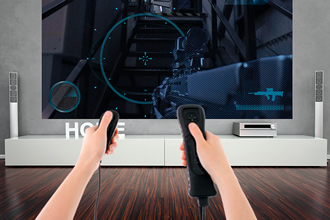 MHL Connectivity
Incorporating MHL technology you can easily connect to your MHL enabled mobile device with a single cable solution. This will turn your HD141X into a smart projector allowing you to mirror your devices screen, access online content, apps, movies, games and photos stored on your mobile device. You will even be able to control your device with the remote.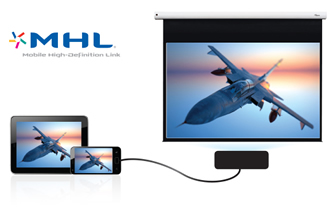 Dynamic Black
This feature gives more depth to your image by smoothly adjusting the lamp output, based on the brightness information of each frame; to create a stunning high contrast ratio. Bright scenes appear crisp and clear, while dark scenes remain detailed with deep blacks and exceptional light and shade detail.

24p
Most movies are shot at 24 frames per second. To preserve the purity of the original image the HD141X can accept High Definition sources at 24 frames per second and so to display movies exactly as the director intended.
Amazing Colors
The HD141X incorporates BrilliantColor™ multi-color processing technology to bring stunning, vibrant color to your screen. You can even fine tune colors for ultimate precision.


Powerful Audio
Complete your home cinema experience with the powerful on-board 10W speaker. Offering exceptional sound quality the HD141X is easy to set up without the need for costly external speakers.
HDMI Link
Control HDMI CEC compatible devices. HDMI Link allows you to turn on/off the HD141X and multiple source device with one remote.

Long Lamp Life
The new lamp technology incorporated into the HD141X extends lamp life up to an incredible 6,500 hours. If you watch a two hour movie every day then typically the lamp will last for over 8 years.
1Lamp based projectors brightness and lifetime will vary depending on selected projector mode, environmental conditions and usage. As is common with all lamp based projectors, brightness will decrease over the lamp lifetime. LED projectors do not have a replaceable lamp and the brightness does not decay significantly over the product lifetime.
2Typical lamp life achieved through testing. Will vary according to operational use and environmental conditions
הערה :
יש לבדוק לפני השכרת מקרן מסוגoptoma HD142X כי מרחק ההתקנה של המקרן מתאים לצפייה
תוכלו להתייעץ עם הנציגים שלנו והם יעזרו לכם לבחור מקרן ביתי או משרדי שיענה לכם על כל הדרישות
וכמובן באיכות שאתם מצפים לה , נשמח לעזור ולייעץ על ברקו של חברת optoma
בברכה צוות סאונדשופ  .